Eyelid Surgery in Turkey
Get Your FREE Treatment Plan NOW!
Skin loses laxity and firmness over time due to gravity or heredity. Sagging starts on the body where the skin is thinner such as eyelids. Eyelid removal is done to remove the saggy skin with a horizontal incision and it is called eyelid surgery known as blepharoplasty.
Eyelid surgery gives you a youthful and vivid look, so, it gets rid of the exhausted and sleepy look on the patient's face formed over the years. Eyelid surgery is performed under general anaesthesia and it takes around half an hour. It is known to be the safest cosmetic surgery and it is carried out by expert surgeons in Turkey at a reasonable price.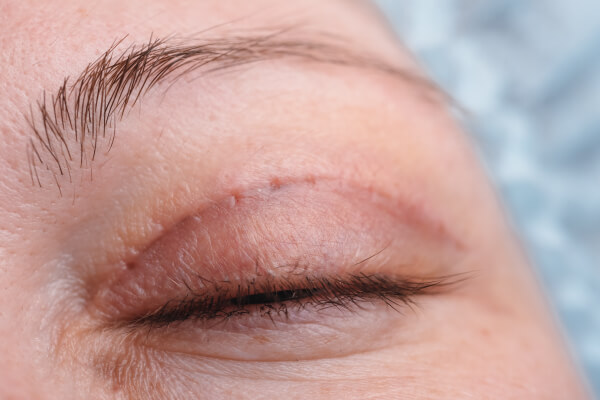 Blepharoplasty is one the most preferred cosmetic surgery around the world, so, many people who want to get eyelid surgery search destinations to get an eyelid operation at reasonable prices. Turkey is the most preferred destination in the world because of the low cost of living and surgeons who are experts in the cosmetic field.
Eyelid surgeries are the safest surgeries among the cosmetic surgeries, however, they should be done by experienced surgeons in a full-operative surgery room, otherwise, eyelids can be asymmetrical or some other problems can occur. Turkey is the place to get the safest and easiest eyelid surgery thanks to its developed technology and expert surgeons. Another reason why Turkey is the best option for eyelid surgery is that Turkey offers eyelid surgery of high quality at an affordable price compared to other countries. People from other countries can get their eyelid surgery at a reasonable price, which is lower than other countries, without sacrificing the quality of the operation.
The eyelid procedure of the patient starts with Sanamentum consultants and they are always there for patients if they have any questions about the surgery. After planning the procedure with the consultants and surgeons, the patient's trip is planned in detail by the consultants. Sanamentum wants to ease its patients' medical journey and give them a satisfying experience.
Eyelid surgery is carried out by expert surgeons and it is performed in the full-function operation room. The surgeon starts eyelid surgery by making incisions differing based on the technique and the area of the surgery. During the operation excess fat and skin is removed and muscles are tightened. This process gives life-changing and natural results, and it gets rid of the sleepy and exhausted look of the eyes.
There are different types of eyelid surgery performed by Sanamentum in Turkey. Which technique will be used in surgery is decided by the surgeon depending on the patient's needs and the surgeon's preferences. There are 4 different techniques for eyelid surgery in Turkey, the first two of them are the most popular ones.
Upper Blepharoplasty in Turkey
It is the surgical operation performed through small incisions on the upper eyelid to remove the excess fat and skin to make the eye look rested and rejuvenated look.
Lower Blepharoplasty in Turkey
This blepharoplasty operation aims at the lower eyelid and it is performed by making small incisions on the lower lid by the eyelashes which prevents scarring. In some cases, lower and upper eyelid surgery can be combined on patients who have excess fat and skin on both of the lids.
Almond Eye Surgery
Almond eye surgery is a procedure very popular among Hollywood stars and celebrities all over the world. Almond eyes are known to be more beautiful, captivating and young looking. In this procedure, the eyes are slightly lifted upward to make a youthful look.
Asian Eye Lid Surgery
Asian people have one eyelid so their eyes look smaller, and do not have visible folds and creases. During the Asian eyelid surgery, small incisions on the upper lid are made and excess fat and skin are removed, thus the eyelid is imitated to protect the look. Asian eyelid surgery is designed to keep origin ethnic and glamorise the face and the eye shape at the same time.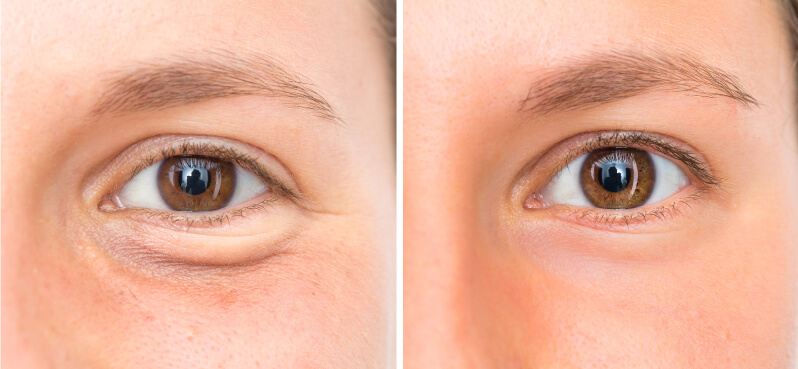 The following instructions are general information to be followed before and after eyelid surgery. The instructions of your surgeon after your eyelid surgery should be followed.
Pre-operation Instructions
Stop taking any medications or any vitamin supplements containing aspirin, ibuprofen (e.g. Advil, Motrin, Aleve etc.), all herbal medicines and all diet pills because they can affect blood clotting and may cause complications about blood pressure, heart rate and respiratory.
Stop smoking before at least 4 weeks. Nicotine slows the healing period down.
Stop drinking alcohol at least 2 days before your surgery.
Do not use any kind of medication without your doctor's permission.
Night/Day of the Surgery:
Do not eat or drink anything 6-8 hours before your surgery.
Prefer clothing (button-top and pull on pants, zipped shirt, sweatpants etc.) that does not need to be pulled over your head.
Leave your valuables at your hotel.
Do not wear contact lenses.
Do not wear make-up, jewellery or apply any kind of lotion, cream etc. to your face.
Post Operation Instructions
Bruising and swelling can be normally expected after eyelid surgery. It may last 2 weeks or longer depending on your body and aftercare.
Strictly avoid excessive facial movements especially sneezing and coughing for the first week.
Restrict your movements after your surgery.
Strictly avoid sun exposure.
Sleep and rest in an upright position. (Like on 2-3 pillows)
Keep away from bending down and heavy lifting for at least 1 month.
Keep away from strenuous activity for at least 4 weeks.
Sex is not recommended for at least 2 weeks after your surgery.
Apply ice and cold compresses on your eyes based on the instructions of your surgeon.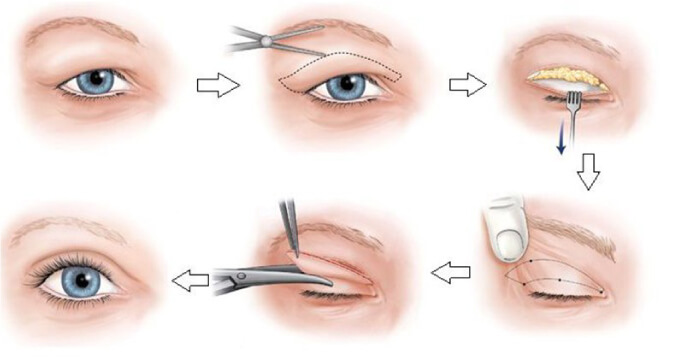 Results of the eyelid surgeries are visible after the operation. Swellings can be seen in the first month after the surgery. As long as the patient follows the surgeon's instructions, the results will be better. The surgeon also prescribes healing creams that help the recovery period. The results of the eyelid surgery are long-lasting and after the operation, the patient will look younger and have beautiful looking eyelids.
People who want to get eyelid surgery but do not want to pay a lot of money look abroad to get cosmetic surgery. Turkey offers reasonable prices with high-quality services. The low cost of living, surgeons who are experts in their fields and developed technology make Turkey the best option for eyelid surgery. Contrary to other countries eyelid prices, Turkey offers its patients high-quality operations at lower prices.
Sanamentum is providing its patients with high-quality cosmetic surgeries thanks to its internationally recognised and certified doctors. Sanamentum surgeons are meticulously selected taking into account their careers and international experiences. As a result, Sanamentum doctors are the best plastic surgeons in Turkey considering their backgrounds, experiences and specialisations in their fields.
Sanamentum's experienced and skilled surgeons will be with the patient during consultation and help plan the medical procedure for the patient. The surgeon decides which technique will be used for the operation to give the best and most natural look to the patient.
All-Inclusive Eyelid Package
Here are the details of our all-inclusive eyelid package:

4-Star Hotel
It is important for us that our patients are comfortable during their stay in Istanbul. Sanamentum patients stay at a 4-star hotel that meets their every need.

Medical supplements, shampoo, lotions
Sanamentum provides our patients with the necessary medical equipment that will support their recovery period to have better results.

VIP Transports
Our patients are transported with a VIP car during their stay in Turkey. The car also picks them up from the airport and drops them off for their departure.

Guarantee Certificate
Sanamentum secures every patient with a guarantee certificate so their minds are at ease. Any malfunction will be compensated by Sanamentum.

Personal Host
All our patients are assigned with a personal host who keeps them company to make thier experience better during their stay in Istanbul.

Group Discount
Sanamentum provides a group discount for patients who bring their friends or family with them to get gastric bypass surgeries.
Frequently Asked Questions (FAQ)
Eyelid surgery is a surgical procedure generally done for cosmetic reasons to improve appearance by removing bagginess and droopiness in your eyelids.
Depending on the case and the number of surgeries to be combined, eyelid surgery may take approximately 1-2 hours.
Of course. Eyelid surgery can be performed for every patient regardless of gender.
Whether in upper or lower eyelid surgery, incisions are made within the contour of the eyelid or very close to the eyelid line, so they will not be fully visible. Besides, Sanamentum partner doctors try their best to provide minimum visibility of scars after surgery.
Though it is closely related to the ageing process, the results of an eyelid surgery generally last for many years, sometimes even lifelong!
Thanks to cheap living costs and the local health system, excess eyelid skin procedure cost in Turkey is lower compared to European countries.  While the exact amount that you have to pay varies according to your case, Sanamentum guarantees to offer you one of the most affordable eyelid surgery costs in Turkey.