Liposuction in Turkey
Get Your FREE Treatment Plan NOW!
Liposuction surgery is a fat-removal process that is used to target specific areas of the body. Patients can either have a full-body liposuction surgery or partial liposuction for different areas such as arms, back, chest, hips, legs, abdomen knees, ankles, buttocks, or chin. Liposuction surgery can have much better results by combining with other operations. The most popular combination of the surgeries is liposuction and tummy tuck operations for people who want to have a flat stomach according to the statics. So how liposuction surgery works?
Liposuction is a fat removal operation consisting of aspirating fat from the body using a special cannula connected to a vacuum machine. General anesthesia is used during liposuction surgery and the operation takes approximately take one to two hours depending on the technique that is used.

With the developed technology, Turkey offers a variety of options for liposuction surgery. All of the techniques aim to remove the fat from the body, however, each technique functions differently from one another. Sanamentum offers three fat removal techniques for patients:
Traditional Liposuction
The traditional Liposuction technique consists of fat removal from the body. The fat stored in the body is aspirated with fine cannulas that are inserted under the skin through small incisions of 2-3 millimeters. The traditional Liposuction technique is for people with excessive fat in their bodies and have surgery at reasonable prices in Turkey.
Vaser Liposuction
Vaser Liposuction technique is a quicker and easier fat removal technique for people with stubborn fat. During this technique, fatty tissue is liquified by ultrasound waves. In this way, it provides more natural liposuction results and fat removal takes less time than other techniques.
Vaser Hi-Def (High Definition) Liposuction
It is a liposuction technique using ultrasound waves together with resonance. This technique allows doctors to remove fat from certain areas of the body. Vaser Hi-Def Liposuction is mostly preferred by men as a six-pack surgery in Turkey.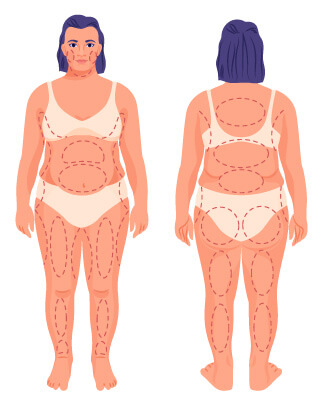 The first question that comes to patients' minds is "How much is liposuction surgery?" The cost of the operation varies according to the technique that is used, the amount of fat on the body and the area in which the operation will be done. Vaser Liposuction is more expensive than Traditional Liposuction because of the fast recovery and more natural results. Amount of the area in which liposuction operation is done changes the price of the surgery. For example, full-body liposuction costs more than chest liposuction.
Fat removal surgeries in Turkey are much more affordable than prices in the UK. Turkey offers reasonable prices thanks to the low cost of living and developed technology in the medical field. Sanamentum guarantees that patients will experience high-quality surgery and affordable prices on liposuction surgery in Turkey.
Everybody has different body types, so, everyone is not the same. Sculptures of everybody vary from one another and losing weight depends on various factors ranging from hormones to genetics. A strict diet and exercise might work for some people, however, some people do not lose weight whatever they try. Even a slim person can have a problem with locally accumulated fat. Excessive weight can be stubborn but with liposuction surgery in Turkey, everyone can have their dream body. Liposuction operation helps patients to fix their sculptures and get rid of the excessive weight in their bodies. People prefer abroad to get liposuction surgery because of the high prices that their country offers. People generally have liposuction operations in Turkey as it is quicker and cheaper than in their country. Turkey welcomes thousands of patients for weight loss surgeries and with the positive results and reviews, Turkey is getting more and more popular.

Liposuction is a fat removal surgery for people who cannot get rid of their stubborn fat. Liposuction surgery is generally used for fats that are located in specific areas of the body. This procedure is a technique using cannulas to aspire the fat from the body. Sanamentum has 3 different types of techniques for the fat removal process. These are traditional liposuctions, vaser liposuctions, and vaser hi-def liposuctions. These surgeries vary from one another in terms of their techniques. Vaser liposuction surgery is preferred by patients who want to lose excess weight with more natural results and a much quicker recovery process. All of the liposuction types aim for the weight loss of the patient and to fix the sculpture. Surgery is the easy part of the procedure and patients should be careful in the recovery part of the surgery.
During the recovery part of the liposuction surgery, the patient needs to follow the surgeon's instructions carefully. Two or three days after surgery, patients can return to their job to continue but it takes two or three weeks to return to their routine activities. During the recovery from the liposuction surgeries, a special type of compression garment is worn by the patient for a few months. The post-operative swelling should fully subside and when it does the body will continue to enhance the contour of the skin. In addition, temporary drains may be placed on incisions beneath the skin to remove any blood or fluid. The results of liposuction are permanent if a patient maintains a stable weight and does routine exercises.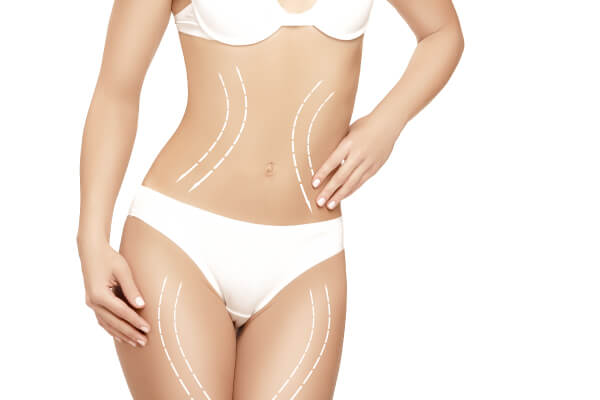 Every plastic surgery operation has risks and complications, however, liposuction in Turkey is a safe procedure as long as the patient follows the required instructions. Fat removal operation is performed by specialized surgeons in a well-equipped operating room.
The liposuction procedure does not leave big scarring on the patient's body, so, recovery is quick and smooth, also gradual. Patients who undergo liposuction surgery should rest for two weeks after the operation. Stitches are mostly dissolvable, so it is a big advantage for patients who have limited time for surgery. There might be small bruises on the body after the surgery, but gradually they will disappear in the following months.
All-Inclusive Liposuction Package
Here are the details of our all-inclusive liposuction package:

4-Star Hotel
It is important for us that our patients are comfortable during their stay in Istanbul. Sanamentum patients stay at a 4-star hotel that meets their every need.

Medical supplements, shampoo, lotions
Sanamentum provides our patients with the necessary medical equipment that will support their recovery period to have better results.

VIP Transports
Our patients are transported with a VIP car during their stay in Turkey. The car also picks them up from the airport and drops them off for their departure.

Guarantee Certificate
Sanamentum secures every patient with a guarantee certificate so their minds are at ease. Any malfunction will be compensated by Sanamentum.

Personal Host
All our patients are assigned with a personal host who keeps them company to make thier experience better during their stay in Istanbul.

Group Discount
Sanamentum provides a group discount for patients who bring their friends or family with them to get gastric bypass surgeries.
Frequently Asked Questions (FAQ)
The liposuction procedure can take between one to four hours depending on the extent of the procedure.
There will be small incision lines on your treated areas where the cannula enters into your body. The scars will heal gradually and there will be no visible lines or incisions on your body.
Sanamentum partner surgeons in Turkey use traditional, Vaser and SmartLipo for liposuction surgery to respond to different patient cases.
No, you can have lipo on any part of your body. The amount of the treatment area affects the length of the treatment.
The aim of liposuction surgery is to reshape the body by removing unwanted fat from certain parts therefore lipo is not a surgery for weight loss.
You should be able to return to work in three to four days and resume normal activity in about a week or two. The final results may be noticeable after three months.