Hair Transplant in Turkey
Get Your FREE Treatment Plan NOW!
Hair transplant in Turkey is a procedure that aims to help patients regain their lost hair. There are many factors, which contribute to hair loss, some of these are stress, genetic factors, hormonal imbalance, etc. No matter what the reason for hair loss is, Sanamentum is here to offer you a hair transplant turkey package under high-quality circumstances, performed by some of the best surgeons in Turkey. Fill out our contact form for us to reach you and give you more information about the hair transplant turkey cost process.
Hair transplant cost turkey surgery is considered a cure for baldness since it can fill the bald area completely. The hair is collected from a dense area, such as the back of the head.
Hair restoration surgery is relatively painless and quick, especially considering the effectiveness of the procedure.
The procedure is performed under local anaesthesia and usually takes between 5 to 8 hours. Hair transplant turkey price surgery is an outpatient surgery, so there is no need to stay at the hospital.
Our patients spend 3 days at a 4-star hotel and can return to their country after this timeframe. Our doctors examine them before they leave Istanbul to make sure everything is alright.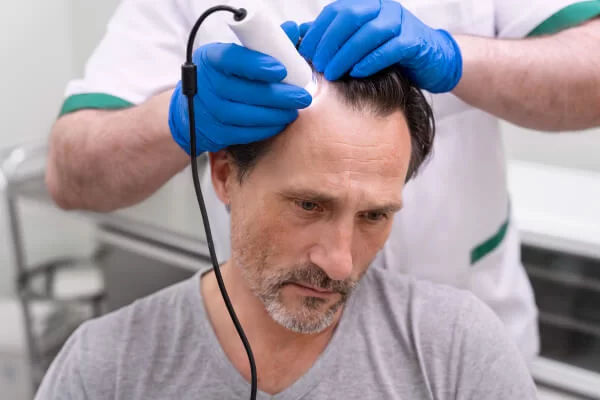 Hair transplant in Turkey is very beneficial for foreign visitors. It is a known fact that medical procedures are very expensive in European countries. That is why every year thousands of foreign patients prefer Turkey for their medical procedures.
Turkey's low living costs make it an attractive destination for foreign visitors. This way, they can both enjoy their high-quality hair transplant surgery Turkey and also appreciate the beauties in Istanbul.
Hair transplant cost turkey patients usually stay around 3-4 days in Istanbul. Turkey hair transplant package operations are outpatient procedures, so the patient does not have to stay at the hospital after surgery. The surgery itself takes somewhere between 5 and 8 hours, depending on the number of hair follicles that are implanted.
There are different best hair transplant in turkey techniques that meet the requirements of different hair loss cases. Sanamentum offers these different hair transplant turkey techniques with the latest technology methods according to the liking and need of the patient.
Here are the different hair transplant in turkey methods we offer:
FUT (Follicular Unit Technique) Technique
FUE (Follicular Unit Extraction) Technique
DHI (Direct Hair Transplantation) Technique
Sapphire FUE Technique
All of these methods serve as a permanent solution for hair loss, the only difference is the way the hair surgery is performed and the tools that are being used differ.
Before the hair transplant turkey cost, the doctor will examine the hair loss of the patient and decide which hair transplant cost turkey is the most suitable for the patient.
In all of these methods, the hair on the donor area is shaven by the doctor to extract healthy hair follicles.
Here, we explain the hair transplant istanbul methods in detail:
FUT, also known as Strip Harvesting, is a turkey hair transplant technique that is very popular and a solution for baldness in one session. FUT is usually performed on men rather than women and can be seen as a permanent cure for male-pattern baldness.
In the FUT method, the doctor removes a strip of skin consisting of healthy hair follicles from the donor area. This strip is usually around 20 to 30 centimetres long and 2 to 3 centimetres wide.
Then, this strip is divided into separate bits using a special microscope. One unit usually consists of 4 to 5 hair follicles.
The next step consists of the implantation of these units. The units consisting of 4 to 5 hair follicles are transplanted into the lacking area.
There is a downside to this hair transplant in Turkey cost method, especially for patients who like to keep their hair really short on the back of their head; the FUT method might leave a linear scar. This scar might be visible and upset the patient.
The other istanbul hair transplant cost methods do not leave a scar the way FUT does, so we advise patients with short hair to explore these techniques.
When it comes to the price of FUT, you can always contact our Sanamentum consultants to get a price.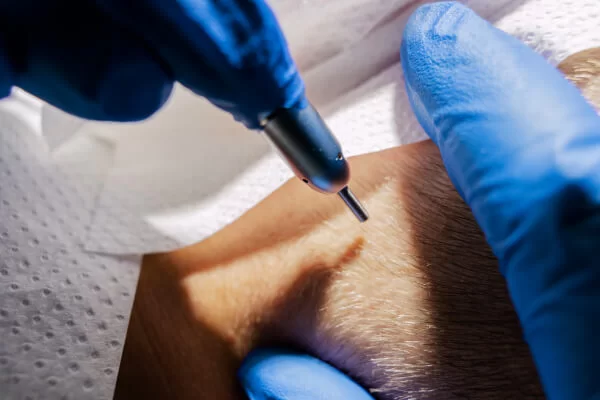 When it comes to the most efficient hair loss solutions, FUE hair transplant turkey is definitely the method that gives the best results. The doctor uses microscopic tools to extract every single hair follicle individually and implants them in the receiving area. The tip of the tool that extracts the follicles is between 0.55 to 0.70 mm in diameter. These tiny tips cause minimal pain, which is additionally reduced by local anaesthesia.
Hair transplant turkey cost is considered a medical procedure rather than a surgery since it does not involve general anaesthesia and the patient can return to their daily life right after the procedure. It is an out-patient process and the patient does not have to stay at the hospital.
Some of the transplanted hair will fall out after the procedure. Patients do not have to worry about this since it is expected by the doctor. The hair will start growing after around two months and the final results will be reached within 12 to 14 months.
Considering all of these advantages of FUE hair transplant turkey, it is understandable that hundreds of men and women choose Sanamentum FUE hair transplant turkey every year.
Sapphire FUE is performed with the use of a unique tool that has sapphire tips. These tips are very fine and leave a really small opening through which the hair grafts are implanted into the skin.
The difference between Sapphire FUE and FUE is that Sapphire FUE has a relatively shorter recovery time. The sapphire tips damage the skin a lot less than FUE, so the skin can heal a lot faster. There are no visible red dots.
The DHI method consists of the same working principle as the FUE method, however, this technique is performed with a tool called the Choi Implanter.
With this tool, the doctor collects all hair follicles inside the tool. After the donor area is collected, the doctor starts implanting the grafts into the recipient area.
This procedure is shorter than FUE since the procedure is carried out simultaneously. Additionally, there is less scarring and bleeding because the cuts are exactly the size of the grafts.
This technique is preferred by patients who do not want to shave their heads for the procedure.
The most preferred turkey hair transplant techniques are FUE and DHI, but you may not know which is better for you. Both of these fue hair transplant turkey operations are successful and give positive results, but there are differences between them in terms of technique and special tools.
FUE hair transplant turkey is a popular operation and it is preferred by many patients. A group of hair follicles, also known as grafts, are removed by doctors one by one and placed in a storage solution. After the removal process, the doctor uses micro blades to open the holes where hair follicles will be placed. After the channels are opened, the doctor takes the grafts from the storage solution and implants them in the recipient area. The patient can see the first results within two months after the operation.
DHI hair transplant in UK cost operation is similar to the FUE technique but the tools and technique are different from FUE. During the DHI hair replacement turkey, a tool called Choi Implanter is used. With this tool, the doctor collects all the hair follicles inside the Choi Implanter, then, the doctor implants hair follicles in the recipient area. DHI hair transplant UK procedure is done simultaneously, so, it takes shorter than FUE.
Both operations give positive hair transplant turkey results, however, they are different from each other in terms of the special devices and techniques. The FUE hair transplant turkey method is more suitable for patients with large areas of loss hair as it covers larger areas than the DHI method. DHI process, however, aims at a density, not the size of the recipient area. DHI hair loss treatment turkey operation is much more suitable for patients with small but completely bald areas. DHI is generally recommended for patients who are younger than 35 because hair loss is not advanced, so success rates are higher. On the other hand, the FUE hair treatment turkey technique is suitable for patients who need a precise transplant, because during this operation doctor does most of the work manually. The patient and hair specialist can choose one of these methods according to the needs and conditions of the patient.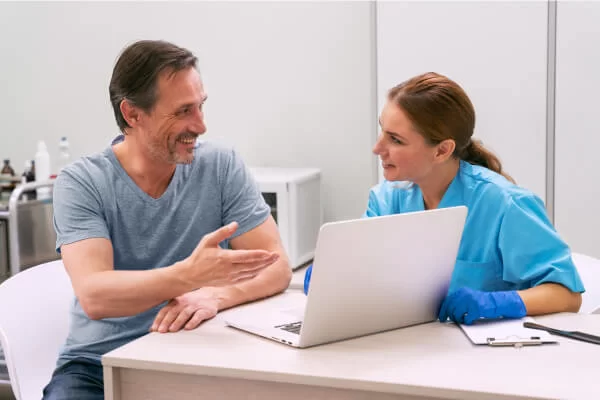 Hair Transplant in Turkey Clinic
As Sanamentum, it is one of our missions to provide our patients not only with efficient and satisfying medical procedures but also with services that support the procedures. This includes the consultation we offer from the very beginning of the process, as well as our after-care that extends to one year after the surgery.
Thanks to these services, we are right by our patient's side throughout their whole medical procedure.
Sanamentum offers many advantages to patients who consider getting hair transplant turkey cost. We work with one of the best hair transplant turkey specialists in Turkey. Our procedures are performed with an experienced and professional medical team that takes care of everything the patient needs.
Our patients stay at a 4-star hotel in Istanbul, and all of their transports from the airport, to and from the hospital are taken care of by our team. We provide our patients with a host is by their side 24/7 during their stay. The host helps the patient around in the hospital and builds the communication between doctor and patient.
Sanamentum hair specialist performs hair transplant uk procedures according to the patient's needs and wants. The baldness pattern of the patient is examined during an appointment to decide on one of the techniques. You can be sure that our hair specialist is highly experienced and decides what is best for the patient.
Sanamentum offers high-quality hair loss solutions at affordable prices. We have adopted it as our duty to make sure our patients receive the best hair transplant turkey package procedures in Turkey.
Sanamentum works with one of the best hair transplant Turkey specialists. Fırat Şıkşık is a hair transplant specialist who is very experienced in his field and performs hundreds of all-inclusive hair transplant in turkey surgeries per year. This allows him to touch the lives of Sanamentum patients and share the happiness of the regain of their hair.
At Sanamentum, the price of hair transplant turkey does not vary according to the number of hair grafts that are to be implanted. Every patient receives their individual turkey hair transplant plan that can vary depending on many factors; the donor area, the recipient area, the type of hair loss, etc.
Hair transplant in turkey procedures is performed in accredited clinics with the use of the latest technology methods, which provide natural and excellent results.
You can visit our gallery to look at the before-after pictures of our satisfied patients.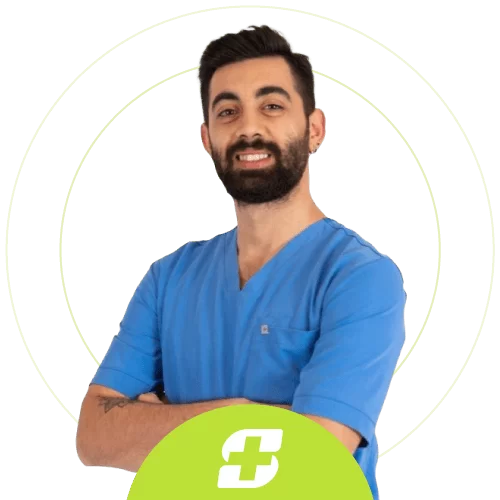 Turkey is a very popular destination for hair transplant cost turkey since the expenses are a lot lower in contrast to European countries. So patients ask "How much is hair transplant uk?" or "How much does a hair transplant cost?" Foreign patients can receive some of the best healthcare services in the world while keeping a budget.
The low hair transplant cost procedures do not affect the quality of the process. We still offer some of the best services, such as VIP transport, 4-star hotel, etc.
Sanamentum offers treatment plans that help the patient navigate their budget. This way, we ensure that our patients receive the treatment they need and do not get themselves into debt. We believe that medical procedures should be affordable for everyone, so we do our best to make this a reality for our patients.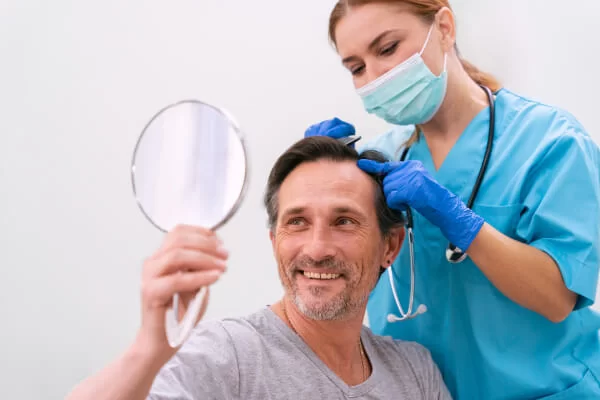 Hair transplant turkey is an outpatient surgery, which means that the patient does not have to stay at the hospital. Patients also ask "How long does a hair transplant last?" Turkey hair transplant will not affect the daily life of the patient. However, patients still need to be careful when touching their heads. They have to protect their head from extreme heat and chemicals.
Red dots may be visible on the head for a few weeks, these will start to disappear over time.
The hair follicles will fall out after surgery, this is completely normal and should not alarm the patient. After that, new hair will start to grow out of these follicles.
The final results will be visible after around 12-14 months.
At the end of their hair transplant turkey procedure patients will have natural, dense hair, which naturally results in a higher self-esteem for them.
Hair transplant in Turkey is a surgery that is 100% worth its outcomes. One of the biggest advantages of hair transplant Turkey is the fact that it is very affordable and still provides very satisfying results.
All-Inclusive Hair Transplant in Turkey Price Package
Here are the details of our all-inclusive hair transplant in turkey price package:

4-Star Hotel
It is important for us that our patients are comfortable during their stay in Istanbul. Sanamentum patients stay at a 4-star hotel that meets their every need.

Medical shampoo, lotions
Sanamentum provides our patients with the necessary medical equipment that will support their recovery period to have better results.

VIP Transports
Our patients are transported with a VIP car during their stay in Turkey. The car also picks them up from the airport and drops them off for their departure.

Guarantee Certificate
Sanamentum secures every patient with a guarantee certificate so their minds are at ease. Any malfunction will be compansited by Sanamentum.

High- Quality Hair Transplant
Our patients get the maximum number on hair grafts at a very affordable price. Sanamentum works with one of the best hair specialists.

Group Discount
Sanamentum provides a group discount for patients who bring their friends or family with them to get hair transplant surgeries.
Frequently Asked Questions (FAQ)
No, the patient is sedated through the whole procedure so it is not possible to feel any pain. After the procedure, there might be swelling and tingling for a few days.
This depends on the length of your hair. The hair on the grafts will fall out first. After that, new hair will start growing out. If you have short hair, it will even out in less than a year.
Yes, hair transplant results are permanent. It will continue growing for the rest of your life. However, the hair might fall out later due to aging.
Yes, but only the recipient area will be shaved, not your whole head.
You should wait at least 4 weeks. Make sure not to sweat too much and harm your newly implanted hair follicles.
You can continue your work right away as long as you protect your scalp. You should not put on anything on your head such as a hat, bonnet, beret, or cap.