Breast Reduction in Turkey
Get Your FREE Treatment Plan NOW!
A breast reduction surgery, also called a mammoplasty, is a cosmetic procedure performed on women who experience constant back and neck pain or have a bent trunk as a result of their breasts' weight. A woman may also undergo boob reduction in Turkey for aesthetic reasons, mainly if she is unhappy with her breast size and feels self-conscious.
The most effective surgery to reduce a woman's disproportionate breast size is breast reduction. The breasts are firmer, more contoured, and smaller after surgery removes glandular tissue, fat, and skin. The areola - the dark area around the nipples - can also be reduced with breast reductions and uplifts in Turkey. It is possible to observe the results of breast reduction surgery and the change in body image immediately after the procedure. If you choose breast reduction surgery in Turkey with the help of Sanamentum, you will finally recover from the pain and discomfort caused by large breasts and get a better-proportioned body.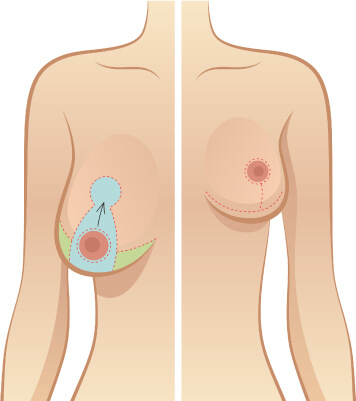 The woman also had a breast uplift during the same process, which is another kind of plastic surgery in Turkey that aims to lift the breasts and reduce breast volume. In Turkey, breast reduction procedures are carried out under general anaesthesia and typically last between two and four hours. Three different types of incisions can be used during surgery: an incision around the areola, an incision that runs vertically from the bottom edge of the areola to the underside of the breast crease, and an incision that follows the natural curve of the breast crease.
During the operation, the plastic surgeon will:
Make an inverted T incision to trim extra skin, fat, and tissue from the breasts;

Move the breast, and make the areola smaller;

To prevent scarring and achieve a breast job that looks natural use sutures.
The patient typically has to stay in the hospital for one day to see whether she is stable.
The most common treatment for large breasts, as well as other instances where women are dissatisfied with any aspect of their bodies, has always been cosmetic surgery abroad. In Turkey, hundreds of women specifically choose breast reduction surgery each year to relieve the discomfort of having large breasts.
One can be worried about the outcome of plastic surgery before travelling abroad. Undoubtedly, the patient's decisions are crucial to getting the desired breast reduction results: What country provides the best opportunities for breast jobs? Which plastic surgery center should I choose, or who is the greatest plastic surgeon? What will breast reduction cost? Will the scars after breast reduction be visible?
Breast reduction procedures can produce incredibly satisfying outcomes when performed by a skilled professional in a proper environment. Checking a clinic's breast reduction reviews and breast reduction before and after photos can be quite helpful when making a decision.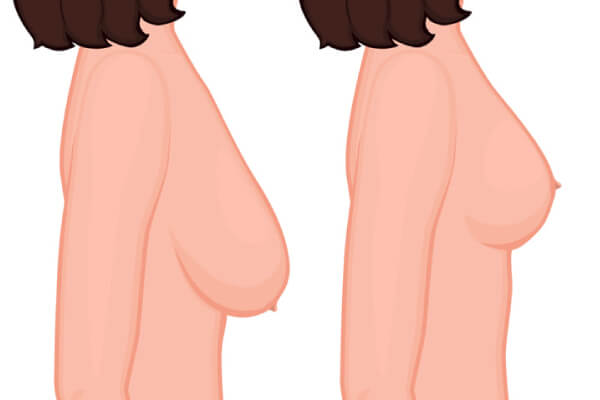 Those looking to get a breast job abroad are very popular with Turkish cosmetic surgeons. Thousands of women choose Sanamentum, the top plastic surgery facility in the country, each year to obtain the desired breast reduction outcomes at a price they can afford in Turkey.
The Sanamentum, which offers all-inclusive plastic surgery packages in Turkey, also offers satisfying breast job results achieved by the greatest cosmetic surgeons in fully-operative medical facilities. You can just contact our medical consultants online to learn more about breast reduction surgery costs in Turkey.
The cost of breast reduction in Turkey is influenced by several factors. Pre-operative tests, anesthesia, medication, and medical bras are all included in the cost of breast reduction. The amount of the operation, any additional procedures like a breast lift or liposuction, the plastic surgeon's experience, and technique are all important. With its all-inclusive package, Sanamentum helps to deliver breast reduction Turkey cost that is competitively reasonable and covers the cost of the procedure, lodging, a personal host, and transfers. Even though breast reduction may appear expensive, Sanamentum won't allow the cost to stop you from getting the physique of your dreams.
Sanamentum works with one of the plastic surgeons in Turkey. Our doctor is a plastic surgeon who is very experienced in his field and performs hundreds of breast reduction surgeries per year. This allows him to touch the lives of Sanamentum patients and share their happiness.
Our plastic surgeons are approved by certain associations such as ISAPS, which further proves that they are highly qualified to perform these surgeries. Our patients can be sure that they are in the best hands during their stay in Turkey.
Our breast reduction surgeries are performed in accredited clinics with the use of the latest technology methods, which provide natural and excellent results.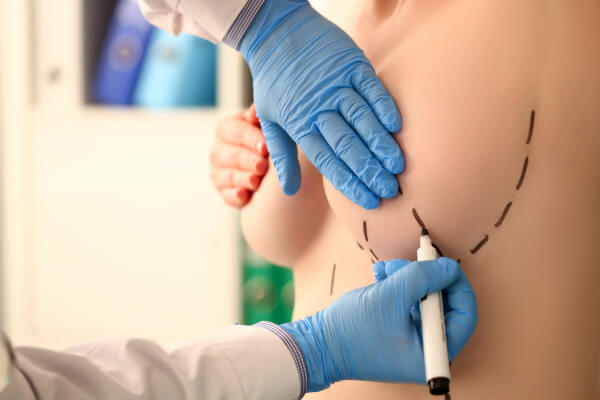 Women who have undergone breast reduction surgery will immediately notice a difference because their shoulders and backs are no longer carrying a hefty weight. However, it takes the patient six to twelve months to notice the full effects of the breast reduction surgery because of the post-operative swelling.
Here are a few simple but significant effects of breast reduction surgery:
Better breast proportions

Possibility of having access to more attractive clothing selections;

Improved posture; increased self-worth and confidence

Engage in physical activity and sports

Recovery from neck, shoulder, and back pain
Patients who have had breast reduction surgery are more active and, for the majority of them, the procedure has changed their lives. Results of breast reduction surgery are instantly noticeable. As with the recovery, satisfaction with the new body image should increase.
Because following the post-operative instructions has a substantial impact on the recovery time, breast reduction aftercare is equally crucial.
The recovery time following a breast reduction lasts around two weeks, and scarring gradually disappears. Throughout the rehabilitation after the breast reduction procedure, patients must wear the prescribed medical support bra. For the best breast reduction before and after outcomes, avoid physical activity for at least two to three weeks following surgery, and return to work should be delayed by one to two weeks.
Typically, minor pain following breast reduction can be managed with medications. Both during the day and at night, it's crucial to sleep on your back and wear a medical bra with proper support.
After breast reduction, patients may occasionally need drains for three days to eliminate any extra blood or fluid that can collect in the body and increase the risk of problems like infection or seroma.
After a breast reduction, the sutures should generally be removed 7 to 10 days later. During this time, the patient should stay still and avoid moving their arms and bodies too much. After breast reduction, there may be some edema, which should go away in around 6 months.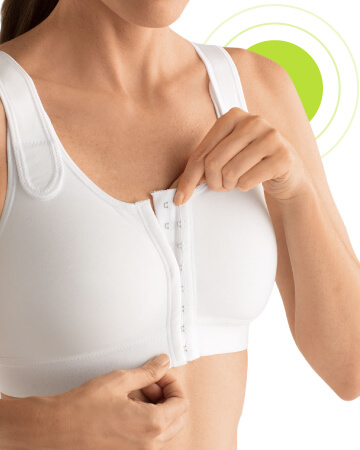 Breast Reduction Clinic
As Sanamentum, it is one of our missions to provide our patients not only with efficient and satisfying medical procedures but also with services that support the procedures. This includes the consultation we offer from the very beginning of the process, as well as our after-care that extends to one year after the surgery. Thanks to these services, we are right by our patient's side throughout their whole medical procedure.
Sanamentum offers many advantages to patients who consider going through breast reduction surgery. We work with one of the best cosmetic surgeons in Turkey. Our procedures are performed with an experienced and professional medical team that takes care of everything the patient needs.
Our patients stay at a 4-star hotel in Istanbul, and all of their transports from the airport, to and from the hospital are taken care of by our team. We provide our patients with a host by their side 24/7 during their stay. The host helps the patient around in the hospital and builds the communication between doctor and patient.
Sanamentum cosmetic surgeons perform breast reduction procedures according to the patient's needs and want. The whole process continues with mutual communication and kindness. Patients should tell their doctors exactly what they expect from breast reduction surgery.
Sanamentum offers high-quality breast reduction surgeries at affordable prices. We have adopted it as our duty to make sure our patients receive the best breast reduction procedures in Turkey.
All-Inclusive Breast Reduction Package
Here are the details of our all-inclusive breast reduction package:

4-Star Hotel
It is important for us that our patients are comfortable during their stay in Istanbul. Sanamentum patients stay at a 4-star hotel that meets their every need.

Medical supplements, shampoo, lotions
Sanamentum provides our patients with the necessary medical equipment that will support their recovery period to have better results.

VIP Transports
Our patients are transported with a VIP car during their stay in Turkey. The car also picks them up from the airport and drops them off for their departure.

Guarantee Certificate
Sanamentum secures every patient with a guarantee certificate so their minds are at ease. Any malfunction will be compensated by Sanamentum.

Personal Host
All our patients are assigned with a personal host who keeps them company to make thier experience better during their stay in Istanbul.

Group Discount
Sanamentum provides a group discount for patients who bring their friends or family with them to get gastric bypass surgeries.
Frequently Asked Questions (FAQ)
Yes, the best result of breast reduction surgery is achieved when the breast is lifted as well. Breast lift in most cases is applied in conjunction with breast reduction surgery. However if liposuction technique is used, breasts may not be lifted.
No, in most cases the nipples are not repositioned unless the patient is very large-breasted.
The results of breast reduction surgery are long-lasting. Surgery will help you relieve pain and physical conditions. Your better proportioned body will improve your self image and boost your self-confidence. Although, in time your breasts can change due to aging, gravity, weight fluctuations, and hormonal factors.
How much the breasts can be reduced depends on the patient's size, breast composition. Our partner surgeons will help you decide the best plan during your consultation.Numerous patients who undergo a breast reduction procedure normally choose to go down one or two cup sizes.