BTS Members' Transformations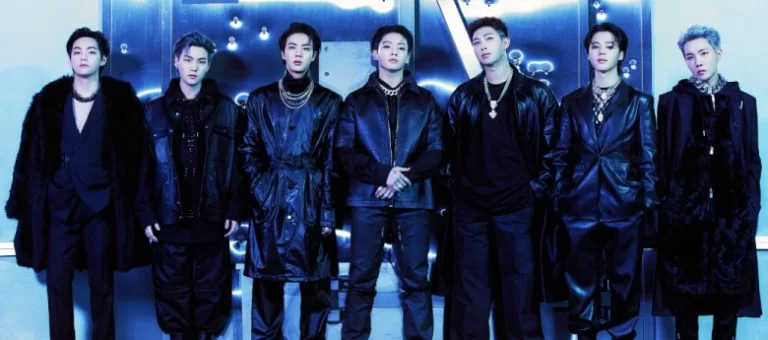 Recently, K-pop heat has taken over the whole world, and BTS can be seen as the main cause of it! BTS is one of the most famous boy bands in the whole world – and not without reason. BTS is made up of 7 attractive members who have conquered the hearts of millions of girls and boys.
Their songs, their live performances and generally everything else about them make their fans swoon! Naturally, their fans really want to see their old appearance and how they looked before they became crazy famous.
Right now, the Korean style has a grip on the fashion and beauty world. Anyone who is not blessed by the perfect Korean genes wonders – is it really genetics or do the members of BTS get cosmetic support to maintain their perfect looks? We will find out!
Jungkook (Jeon Jungkook)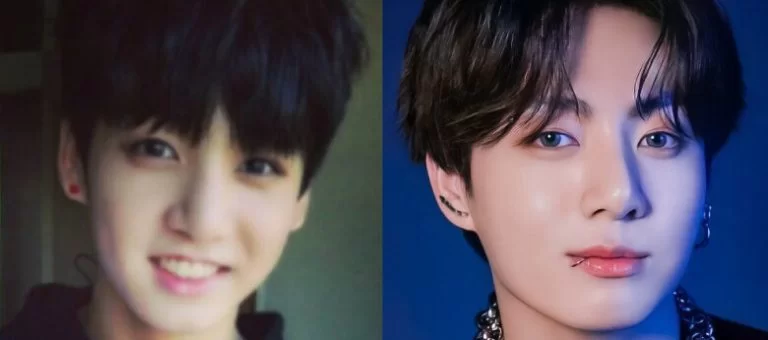 Jungkook is one of the most beloved members of the group, and many fans find him sympathetic and cute because of his young age. Here we can see the before and after pictures of Jungkook. We have to say that he grew up to be a very handsome young man. It is possible to say that Jungkook has not gotten any permanent cosmetic interventions. The nose of his shape is the same, there is only a little amount of filler on the tip of his nose. Apart from that, he has gotten a small amount of lip filler as well. Over the years, the shape of his face has changed due to aging.
V (Kim Tae-hyung)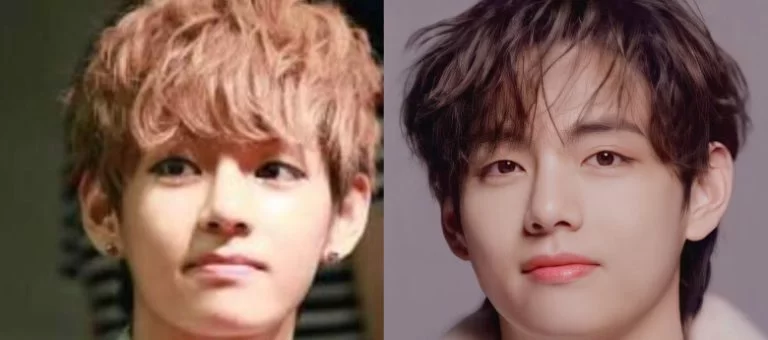 It is really fascinating how ageing can cause a complete glow-up! Tae-hyung has changed the colour of his hair, which has given his skin colour more contrast. It seems like his jawline has gotten sharper, which can be achieved with jawline fillers. Other than that, it is possible to say that Tae-hyung has some really good genetics! Naturally, people who are this famous have the best sort of skincare, which explains how his skin looks so healthy and glowy!
Jimin (Park Ji-min)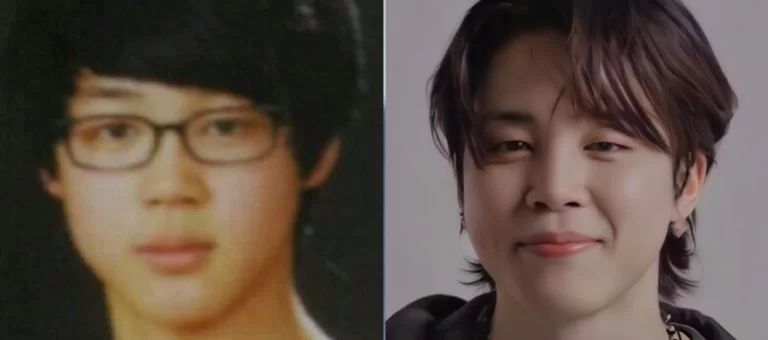 Jimin has definitely glowed up, and we think that he has not gotten any plastic surgeries to achieve his current look! He looks much healthier and happier. He has a long hairstyle, which perfectly suits his oval-shaped face. His lips and nose seem the same. Jimin has always had a pointy chin that naturally gives him a refined jawline. Apart from growing up and finding his style, we do not think that Jimin has had any cosmetic procedures and is naturally really handsome!
Suga (Min Yoon-gi)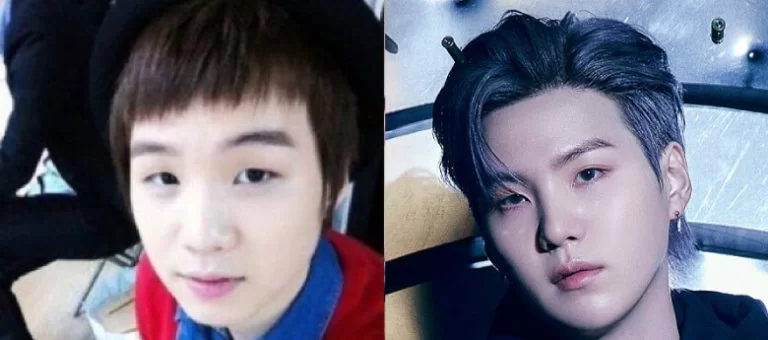 Looking at Suga's transformation, it is possible to say that he definitely found the style that suits him! His slip-back hair brings out his naturally symmetrical face. We can see that Suga has gotten some filler on his upper lip. Apart from this, Suga is blessed with an attractive face. His skin looks healthy and glowy.
RM (Kim Nam-Joon)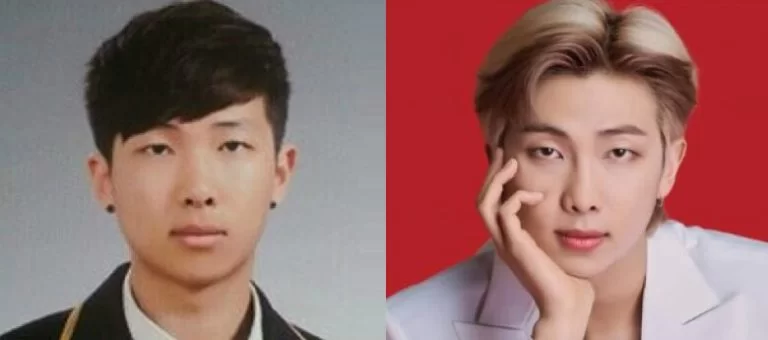 Nam-joon definitely found his colour when he switched from dark brown hair to blonde! We love the way his light colour compliments his skin tone. Nam-joon has also grown out his eyebrows, which has had a positive impact on his face. His face is very symmetrical. We cannot see any permanent changes on his face. Due to ageing, his face looks bonier, which is completely normal. Also, the skincare and makeup he receives have an absolutely positive impact on his face.
Jin (Kim Seok-jin)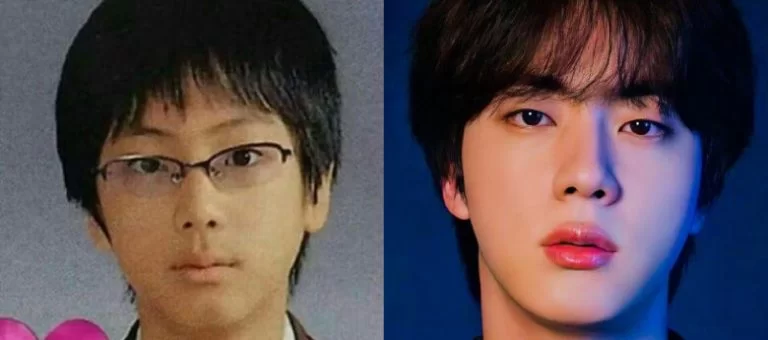 Over the time since his before picture, Jin has become a very attractive young man. There is absolutely nothing that has changed on Jin's face. He just grew up and found the style that suits him. His dark hair colour creates a beautiful contrast with his skin tone and his plump lips. However, we can see that he has always had full lips. It is possible to say that Jin is just blessed with beautiful genes!
J-Hope (Jung Ho-seok)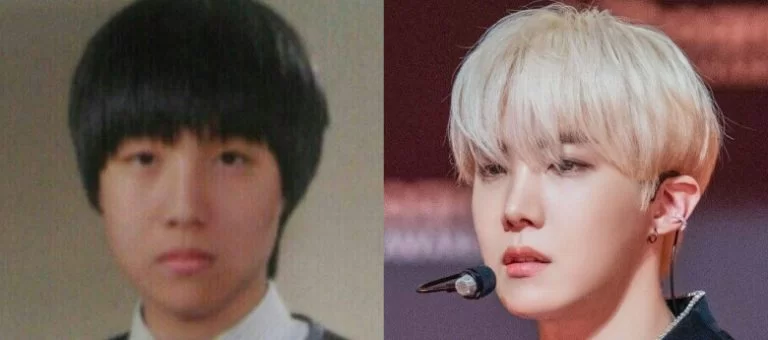 Lastly, looking at J-hope, we can see that much has changed since his before picture. His hair colour has changed and looks just beautiful with his skin tone. Apart from that, we can see that J-Hope either had a nose job or has gotten filler on the tip of his nose. The general shape of his nose has not changed but there is definitely a change at the tip. Additionally, we think that he has had a fox-eye procedure that gives him mysterious, beautiful eyes. No matter what, J-hope is a very attractive K-pop idol!