Rhinoplasty in Turkey
Get Your FREE Treatment Plan NOW!
Rhinoplasty, also commonly known as a nose job, is a surgical intervention that aims to decrease the aesthetic and/or physical concerns that occur due to the structure or appearance of the nose.
Some people may experience physical suffering due to the shape of their nose, such as being unable to breathe through both nostrils – which ultimately leads to snoring and other breathing problems.
Other than that, there are also people that just do not like the appearance of their noses. Being unhappy about a certain part of the face can evoke very negative feelings in the person, sometimes even leading to depression. The nose is a very important part of the face and attracts attention immediately.
Sanamentum offers affordable, high-quality rhinoplasty surgeries that will change the appearance/shape of the patient's nose and increase their self-confidence.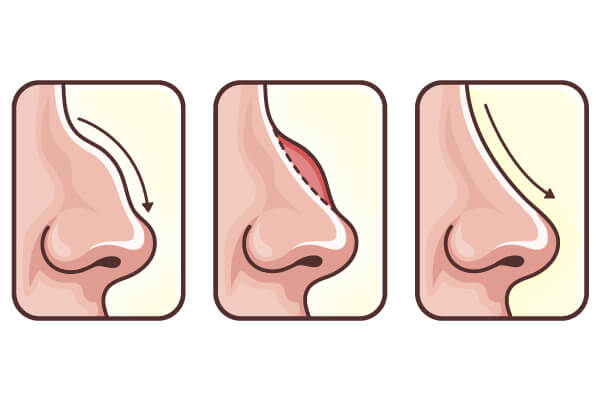 Septorhinoplasty is a type of rhinoplasty that is performed on patients who are happy with the appearance of their nose, but unable to breathe through their nose. If this is the case, the surgeon performs septorhinoplasty and frees the patients from their suffering.
Septorhinoplasty eliminates any blocking that keeps you from breathing right.
Nose job Turkey is very beneficial for foreign customers. It is a known fact that medical procedures are very expensive in European countries. That is why every year thousands of foreign patients prefer Turkey for their medical procedures.
Turkey's low living costs make it an attractive destination for foreign visitors. This way, they can both enjoy their high-quality nose job surgery Turkey and also appreciate the beauties in Istanbul.
Rhinoplasty patients stay 6 days in Istanbul. After the operation, the patient has to spend one night at the hospital. Before their departure, the patient will visit their doctor one last time to make sure that they are ready for traveling. After their arrival in their country, Sanamentum will continue supporting them. Patients have one aftercare appointment in the UK and can also reach our medical consultants anytime they like.
Surgeons offer two methods of intervention during rhinoplasty surgery. The surgeon will decide on one of these methods according to the patient's wants and needs.
Before the surgery, the surgeon and patient will talk about the expectation and possible results of the surgery. There is a thorough consultation appointment that takes place before the actual nose job surgery. The patient has to share their wants and expectations with the surgeon to receive the best results possible.
Closed Rhinoplasty:
This method is widely preferred by surgeons since it does not require any incisions that could later result in visible wounds. During a closed rhinoplasty, the nose is operated on from the inside and the skin of the nose is not cut at all. If there is not much to operate in the nose, the surgeon will most probably choose this method. Closed rhinoplasty limits the number of alterations that can be performed on the nose.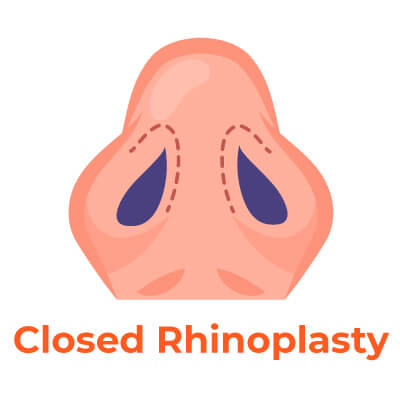 Open Rhinoplasty:
During an open rhinoplasty, the skin on the wall between the nares is cut and lifted to have a better reach on the nose. This allows the surgeon to perform a better and more skilled procedure regarding the nose job. The open method is definitely more suitable if the patient wants a more complex rhinoplasty procedure. The surgeon can reach certain areas without a problem and perform the necessary procedures.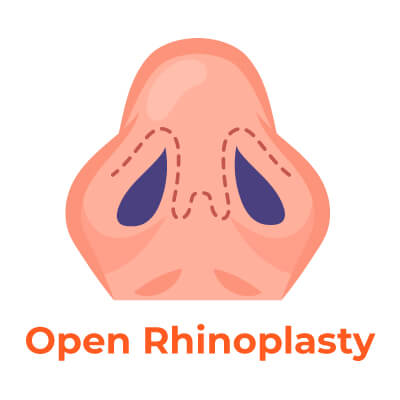 Rhinoplasty with Sanamentum
An asymmetric nose can be a big cause of insecurity for many people. It is our mission to provide our patients with affordable services under high-quality circumstances. Sanamentum welcomes hundreds of patients every year and sends them off with satisfaction and happiness.
Once our patients contact us, we arrange an appointment with them to answer their questions and form a treatment plan according to their needs and wants. This consultation appointment takes place at our office in London or can be done online with patients who cannot come to London.
Sanamentum provides its patients with everything they need. Our patients undergo several pre-operative tests to make sure that they are in good health condition.
After the consultation, our patients are deciding on the dates for their treatment. During their stay in Turkey, they are transported in our VIP cars and our host is always by their side. Nose job Turkey patients stay in Istanbul for 6 days. They spend one night at the hospital after their surgery. On the day of their departure, they have one last appointment with their surgeon to make sure that everything is going alright. After that, they can leave to go to their country.
Sanamentum continues to accompany its patients even after their return. Our team of consultants takes care of our patients for one year after the surgery. We offer one free aftercare consultation in the UK to follow the results of the operation.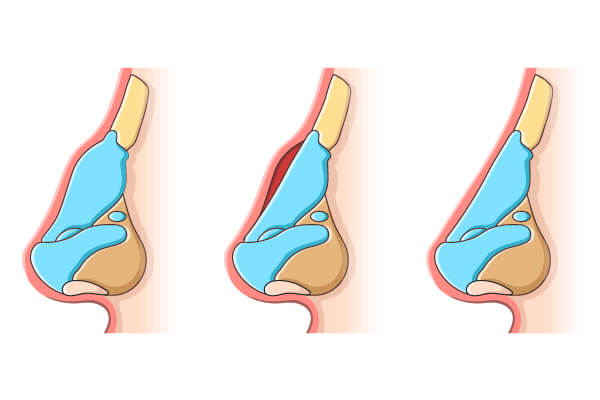 Rhinoplasty Clinic
As Sanamentum, it is one of our missions to provide our patients not only with efficient and satisfying medical procedures but also with services that support the procedures. This includes the consultation we offer from the very beginning of the process, as well as our after-care that extends to one year after the surgery.
Thanks to these services, we are right by our patient's side throughout their whole medical procedure.
Sanamentum offers many advantages to patients who consider going through breast augmentation surgery. We work with one of the best cosmetic surgeons in Turkey. Our procedures are performed with an experienced and professional medical team that takes care of everything the patient needs.
Our patients stay at a 4-star hotel in Istanbul, and all of their transports from the airport, to and from the hospital are taken care of by our team. We provide our patients with a host by their side 24/7 during their stay. The host helps the patient around in the hospital and builds the communication between doctor and patient.
Sanamentum cosmetic surgeons perform breast augmentation procedures according to the patient's needs and want. The breasts of the patient are examined during the appointment and the doctor decides which type of breast implant to use on the patient. The whole process continues with mutual communication and kindness. Patients should tell their doctors exactly what they expect from the breast augmentation surgery.
Sanamentum offers high-quality breast augmentation surgeries at affordable prices. We have adopted it as our duty to make sure our patients receive the best breast augmentation procedures in Turkey.
Sanamentum works with one of the plastic surgeons in Turkey. Our doctor is a plastic surgeon who is very experienced in his field and performs hundreds of breast reduction surgeries per year. This allows him to touch the lives of Sanamentum patients and share their happiness.
Our plastic surgeons are approved by certain associations such as ISAPS, which further proves that they are highly qualified to perform these surgeries. Our patients can be sure that they are in the best hands during their stay in Turkey.
Our breast reduction surgeries are performed in accredited clinics with the use of the latest technology methods, which provide natural and excellent results.
Turkey is a very popular destination for medical travel since the expenses are a lot lower in contrast to European countries. Foreign patients can receive some of the best healthcare services in the world while keeping a budget.
The low cost of breast augmentation procedures does not affect the quality of the process. We still offer some of the best services, such as VIP transport, 4-star hotel, etc.
Sanamentum offers treatment plans that help patient navigate their budget. This way, we make sure that our patients receive the treatment they need and do not get themselves into debt for it. We believe that medical procedures should be affordable for everyone, so we do our best to make this a reality for our patients.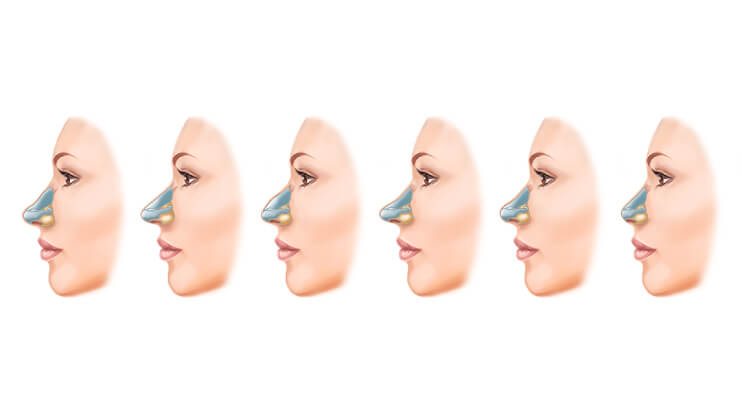 Recovery after rhinoplasty is demanding and slow. Depending on the rhinoplasty technique used, you may wake up with a nasal splint taped over your nose and a nasal tampon within it after having a nose operation in Turkey. The nose splint is often worn for at least a week while the nasal tampon is typically removed after two days. The nasal splint aids in stabilizing newly operated tissue and safeguarding the nose as it recovers.
Patients should expect some mild pain following a nose job, especially in the first three days. During the initial stages of recovery from a turkey rhinoplasty procedure, bruises and swelling are also very typical. The majority of bruises and swelling following a nose job go away within the first month, but it takes patients around a year to fully recover.
All-Inclusive Rhinoplasty Package
Here are the details of our all-inclusive rhinoplasty package:

4-Star Hotel
It is important for us that our patients are comfortable during their stay in Istanbul. Sanamentum patients stay at a 4-star hotel that meets their every need.

Medical supplements, shampoo, lotions
Sanamentum provides our patients with the necessary medical equipment that will support their recovery period to have better results.

VIP Transports
Our patients are transported with a VIP car during their stay in Turkey. The car also picks them up from the airport and drops them off for their departure.

Guarantee Certificate
Sanamentum secures every patient with a guarantee certificate so their minds are at ease. Any malfunction will be compensated by Sanamentum.

Personal Host
All our patients are assigned with a personal host who keeps them company to make thier experience better during their stay in Istanbul.

Group Discount
Sanamentum provides a group discount for patients who bring their friends or family with them to get gastric bypass surgeries.
Frequently Asked Questions (FAQ)
If the rhinoplasty was performed with an open approach, the stitches will be removed on the fifth postoperative day.
Nose surgery in Turkey assisted by Sanamentum is performed using either the open or closed technique. If the open technique was used, a small incision in the columella is made. This incision heals well and will not be visible once it is fully healed. The closed approach is performed with incisions inside the nose. Your surgeon will discuss with you what the best technique is for your case.
Sanamentum partner plastic surgeons will maintain adequate breathing following nose surgery. However certain breathing problems (such as a crooked or pinched nose) are also responsible for breathing difficulties even prior to the nose surgery and appropriate treatment such as septorhinoplasty can improve both appearance and function.